Paclitaxel Eluting Peripheral Drug Coated Balloon Dilatation Catheter
Pearl Flow :Peripheral Drug Coated Balloon

Specifications

USABLE LENGTH
138 cm
LENGTH OF GUIDE WIRE LUMEN
127 cm
MATERIAL
Balloon
Proprietary polyamide compound
Distal shaft
Polyamide, multilayer tubing
Proximal shaft
Stainless steel, PTFE coated
SHAFT SIZE
Proximal
1.9 F
Distal
2.8 F
BALLOON FOLDING
3-fold balloon
MARKER BANDS
Embedded Platinum / Iridium marker
TIP PROFILE
0.017″ (0.43 mm)
MAX. RECOMMENDED GUIDE WIRE
0.014″ (0.36 mm)
RECOMMENDED GUIDING CATHETER
min. ID
5 F / 0.056″ (1,65 mm)
Usable Catheter length
85cm / 150cm
Material
Balloon
Polyamide
Shaft
Polyamide, Dual lumen tubing
X-ray marker
Platinum-Iridium
Catheter design
OTW – over the wire
Introducer set
4 F
Catheter
4 F catheter
Max. recommended guide wire
0.018″
Coating:
| | |
| --- | --- |
| DRUG (API) | Paclitaxel |
| DOSAGE | 3,0μg/mm2 |
| TRANSFER MATRIX (Exipient) | Butyryl-tri-hexyl citrate (BTHC) |
| COATED AREA | Cylinder and tapered sections of the balloon |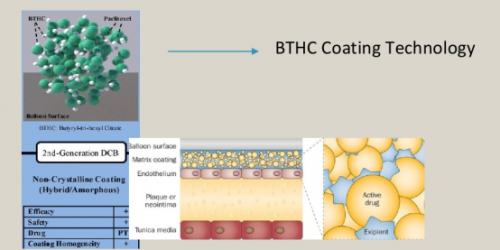 In peripheral artery disease, DCB therapy has proven superior to balloon angioplasty for treatment of de novo femoropopliteal and below-the-knee disease.
The Excipient
The excipient is a crucial part of a drug-eluting balloon, as it may have a direct effect on the drug uptake. The rationale behind a higher drug uptake lies in the effect of the excipient.
Another benefit of excipients may be the smooth dispersion of the drug in the excipient matrix increasing the uptake
Why Butyryl-tri-hexyl citrate (BTHC) coating?
Proven Track record
Keeps Paclitaxel in microcrystalline structure
Degrades to Citric acid and alcohol and metabolized rapidly.
BTHC coating is less soluble than hydrophilic alternatives resulting in more bio-availability of the drug
Balloon Compliance Chart:
Balloon-Ø [mm] 4,00 5,00
2.00
2.50
3.00
4.00
5.00
6.00
7.00
Pressure-
[MPa/atm ]
0.7 / 7
2.00
2.50
3.00
4.00
5.00
6.00
7.00
0.8 / 8
2.04
2.53
3.03
4.06
5.11
6.08
7.05
0.9 / 9
2.09
2.57
3.05
4.12
5.22
6.15
7.10
1.0 / 10
2.13
2.60
3.08
4.18
5.32
6.23
7.15
1.1 / 11
2.18
2.63
3.10
4.24
5.43
6.30
7.20
1.2 / 12
2.22
2.67
3.13
4.30
5.54
6.38
7.25
1.3 / 13
2.27
2.70
3.15
4.36
5.65
6.45
7.30
1.4 / 14
2.31
2.73
3.18
4.42
5.76
6.53
1.5 / 15
2.35
2.77
3.20
NOMINAL PRESSURE 0.7 MPa / 7 atm
RBP (Rated Burst Pressure)
Ordering Information:PearlFlow (0.018″ Guide Wire / Shaft Length 85cm)
Balloon-Ø
Balloon Length
40 mm
 60 mm
80 mm
120 mm
150 mm
2.00 mm
PFM2000400
85
PFM2000600
85
PFM2000800
85
PFM20001200
85
PFM20001500
85
2.50 mm
PFM2500400
85
PFM2500600
85
PFM2500800
85
PFM25001200
85
PFM25001500
85
3.00 mm
PFM3000400
85
PFM3000600
85
PFM3000800
85
PFM30001200
85
PFM30001500
85
4.00 mm
PFM4000400
85
PFM4000600
85
PFM4000800
85
PFM40001200
85
PFM40001500
85
5.00 mm
PFM5000400
85
PFM5000600
85
PFM5000800
85
PFM50001200
85
PFM50001500
85
6.00 mm
PFM6000400
85
PFM6000600
85
PFM6000800
85
PFM60001200
85
PFM60001500
85
7.00 mm
PFM7000400
85
PFM7000600
85
PFM7000800
85
PFM70001200
85
PFM70001500
85
Ordering Information:PearlFlow (0.018″ Guide Wire / Shaft Length 150cm)
Balloon-Ø
Balloon Length
40 mm
 60 mm
80 mm
120 mm
150 mm
2.00 mm
PFM2000400
150
PFM2000600
150
PFM2000800
150
PFM20001200
150
PFM20001500
150
2.50 mm
PFM2500400
150
PFM2500600
150
PFM2500800
150
PFM25001200
150
PFM25001500
150
3.00 mm
PFM3000400
150
PFM3000600
150
PFM3000800
150
PFM30001200
150
PFM30001500
150
4.00 mm
PFM4000400
150
PFM4000600
150
PFM4000800
150
PFM40001200
150
PFM40001500
150
5.00 mm
PFM5000400
150
PFM5000600
150
PFM5000800
150
PFM50001200
150
PFM50001500
150
6.00 mm
PFM6000400
150
PFM6000600
150
PFM6000800
150
PFM60001200
150
PFM60001500
150
7.00 mm
PFM7000400
150
PFM7000600
150
PFM7000800
150
PFM70001200
150
PFM70001500
150